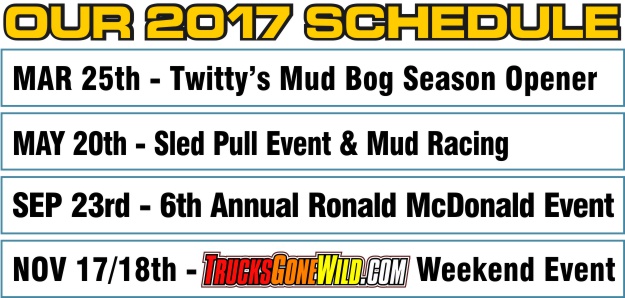 UP NEXT - September 23rd will be our 6th Annual Ronald McDonald Bogging event. This event has consistently been one of South Carolina's top events each year and we always enjoy hosting it. Lots of local drivers and trucks compete in this mud racing event and we always receive tremendous support from drivers and truck owners from around the Southeast. We will have tons of fast trucks and Mega Trucks in the house on this event weekend.
Competition is typically at an all time high each year, so you will want to make plans very soon to be there and make sure it gets on your calendars. Sept 23rd is the date - please make a note right now.

Gates will open at 9:00am - driver's meeting around 11:45am - Mud racing kicks off around Noon. All classes will be competing, so make plans right now to be a part of this great event.

TRACKSIDE PARKING SALES OUT FAST. Secure yours today. All normal parking spots will continue to be available all weekend at every event.
---
5/20/17 CLASS Winners
A Class 35 & UNDER

1st Thomas Mayfield / Black Betty
2nd JR Tucker / White Ghost
3rd Kyle Shealy / Clean Slate
B Class 39.5& UNDER

1st Mike Pritchard / Pritchard Strong
2nd Paul Smith / Natural Distaster
3rd David Williams / Soggy Bottoms

C Class 44 & UNDER

1st Greg Willey / Heinuff
2nd Lee Seagers / Dirty Hands
3rd Wyatt Twitty /Lil Killa

1 Ton V-Tread

1st Jordyn Twitty/ Twitty's Princess
2nd Johnny Jackson / Mohawk Madness
3rd Greg Willey / Heinuff
MEGA Trucks

1st Kevin Lawrence / KING KRUSH
2nd Bobby Brown / Heavy Metal
3rd Bill Scott / No Mercy
MARCH 20th CLASS Winners
A Class 35 & UNDER

1st Bill Hair
2nd Blaine Heffelfinger
3rd Dillon Threatt
B Class 39.5& UNDER
1st David Williams
2nd Jeffery Hair
3rd CoreyThrarin

C Class 44 & UNDER
1st Cole Priest
2nd Greg Willey
3rd Wyatt Twitty
1 Ton V-Tread
1st Jack McCoy
2nd Daren Owens
3rd George Farmer
2.5 Ton & Up - MEGA Trucks

1st Victor Adams
2nd Jody David
3rd Phillip Phillips

---
We have a great thing going on here in Ulmer, South Carlina and it is all thanks to the drivers and fans. Your support is legendary and we thank you for it. We will also be ramping up our driver safety program again this year and ask that all drivers be aware and do their very best to comply with all safety rules. We always want your safety to come first and things like Roll Cages, fire suits and fire extinguishers can go a long way to help protect you.
---
IMPORTANT NOTICE: No Pets or Glass Bottles/Containers will be allowed at Twitty's Mud Bog
Read the news from past events (2014) - Click Here